Upholstery and Carpet Cleaners Aberystwyth
"I cannot fault the cleaning of my sofa, chair and three rugs. All came up like new! "
Elizabeth Fox
Rating ★★★★★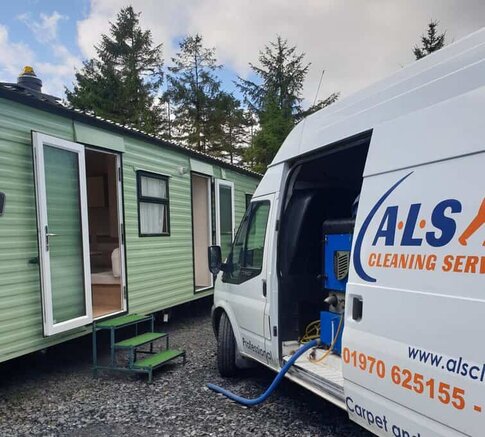 From rug cleaning to upholstery and sofa cleaning in Aberystwyth and beyond we believe in providing the best customer service possible and, as such, we have gone to great lengths to ensure that we utilise the very pinnacle of cleaning technology.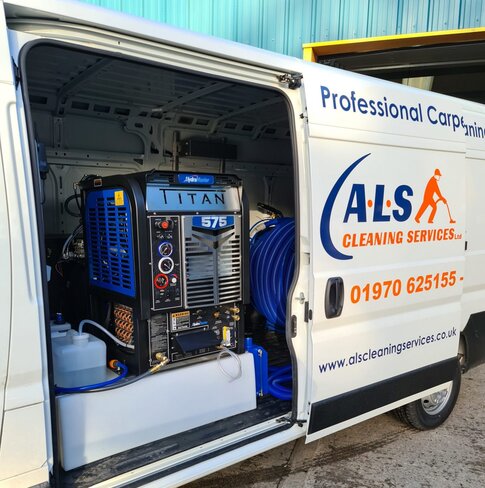 The Hydramaster Titan 575 is the best money can buy!
High-Tech Carpet Cleaning Equipment
We have invested in a 'Hydra Master Titan 575' truck-mounted carpet cleaning machine which is the best cleaning machine available in this line of service.
Our unique Hydra Master cleaning system is fixed to our vehicle, has an integrated power source and comes replete with its own supply of fresh water offering unmatched upholstery cleaning services in Mid Wales.
Our cleaning solutions are also very effective at bringing a new life back to upholstery such as sofas and other furniture.
Unparalleled Efficiency & Results
Currently the 'Hydra Master Titan 575' is the market leader of carpet cleaning machines and we believe that it more than lives up to its name.
Unlike many of our competitors, we do not rely on machinery that drains the resources of your property and there is no need for concern regarding heavy, cumbersome equipment which has to be transported throughout a location during an upholstery or carpet cleaning session.
Here at ALS Cleaning Services we offer a system which is far more efficient than portable carpet cleaners and the results are unparalleled.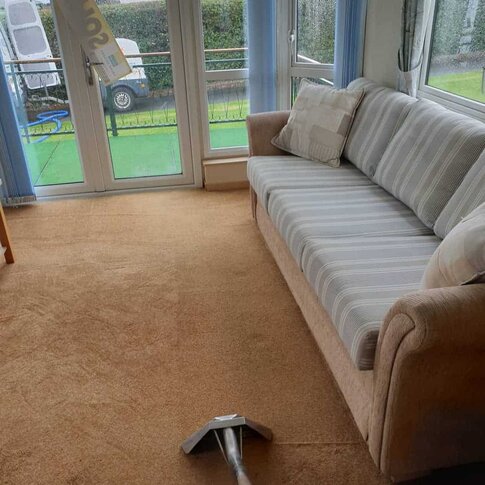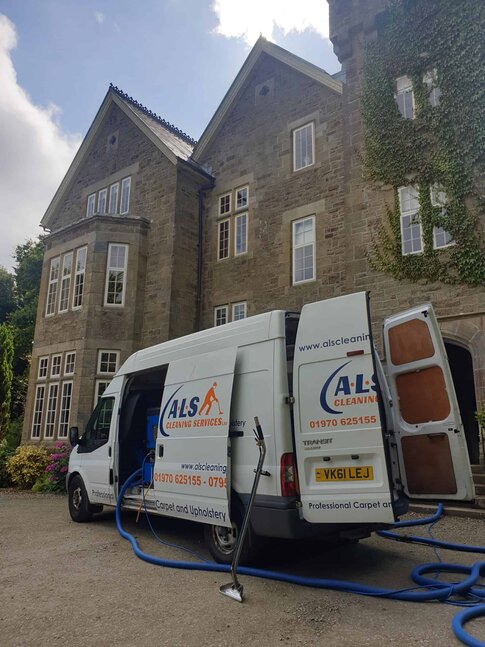 Vacuuming is not enough
It is typical for people to assume that vacuuming will get rid of dirt and grime to keep the carpet in good condition. However, vacuuming only removes dirt from the surface and not the deep-rooted grime. A better alternative to vacuuming is the use of wet extraction equipment for optimum stain removal.
Heated water and detergent are sprayed on the carpet and then simultaneously extracted together with dislodged and dissolved dirt. Any lingering smells are removed to achieve a more hygienic and fresh smelling carpet.
Professional wet extraction is recommended because it is the most efficient method of cleaning carpets. However, the process must only be undertaken by expert carpet cleaners to avoid most problems that can damage the man-made carpet fibres. The carpet must be preconditioned and the fibres agitated with a grooming brush before the wet extraction process.
Carpet Cleaning Aberystwyth No fuss, no mess
High tech carpet cleaning is quick and efficient. Only environmentally-friendly and biodegradable products are used in the stain removal process. Clients are assured that their electrical and water resources won't be used during the cleaning process because the truck is equipped with its power source and water supply. Dirty water that will be extracted during the carpet cleaning process will be collected and stored in a wastewater tank that is situated in the vehicle. Since hoses can be trip hazards, only unobtrusive hoses are used.
The state-of-the-art carpet cleaning machine penetrates the fibres using environmentally-friendly and biodegradable chemicals at very high temperatures to deep clean the carpet. At least 95% of the remaining water and cleaning solution is simultaneously extracted from the carpet to ensure drying time of just 2 to 4 hours. Excellent standard of service is guaranteed with amazing results.
It is far more efficient and convenient for homes, hotels and other establishments to have their carpets and upholsteries cleaned professionally.
Always remember, regular vacuuming cannot remove stains and unfavourable smells from carpets because it only removes dust and dirt on the surface. Professional carpet cleaning brings new life to your carpets and upholsteries with no fuzz and mess.
Why choose us?
We're the best cleaning company in Aberystwyth and the surrounding areas through the Hydra Master truck-mounted cleaning machine, one of the best machines available in the industry. The unique Hydra Master cleaning system is very effective in restoring the original beauty of carpets and upholsteries. The cleaning system is fixed to a vehicle with an integrated power source and its own fresh water supply.
The Hydra Master cleaning system does not depend on the resources of the property. Clients do not have to worry about heavy, cumbersome equipment that will be transported throughout the location during the cleaning process. Our cleaning solutions are fast and efficient and drying time is reduced to minimise any disturbances to normal activities.
Professional carpet cleaning services can extend the life of your carpet by removing embedded dirt and grime including stains that causes the fibres to split and deteriorate. When carpet cleaning is done professionally, dirt and grime that have adhered to the fibres are removed to ensure a more sanitized and clean-smelling carpet. We offer commercial cleaning as well as domestic carpet and upholstery cleaning in Aberystwyth and the surrounding areas.
Looking for hard floor cleaning? We do that too!
Want to Bring Your Carpets & Upholstery Back to Life?
Call ALS today on 07957 239 914